Winterize Your Home and Save Money
Posted by Becky Lusch on Sunday, October 28, 2018 at 8:20 PM
By Becky Lusch / October 28, 2018
Comment
Tips to Save Money this Winter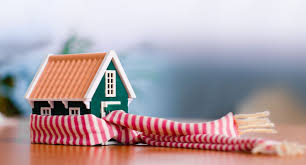 Although this winter is expected to be milder, the temperatures are already proving to be chilly. Heating is expensive, and you don't want to watch your hard earned money literally fly out of the windows and doors. I have a few tricks to help you save money and keep your home cozier this winter.
1. Caulk around your windows to prevent warm air from escaping. Caulk needs to be replaced periodically and you want to check for holes every year.
2. Replace weather striping around doors. A general rule: If you can see light around the edges of the door, you need a new weather strip. These handy strips can save you hundreds of dollars in electrical bills!
3. Close your fireplace. Close the flue when you're not using your fireplace, or chose glass doors around your fireplace opening to keep warm air inside, and cold air out.
4. Use Heavy drapes and rugs. Thick rugs can add a layer of insulation above the floor, and thick drapes can keep the cool air from coming in through the windows.
5. Cover your water heater. You can pick up a water heater blanket at the hardware store for about $20 and it can keep the tank from losing heat as quickly, saving you money!
6. Change your furnace filters. When the filters are dirty, your furnace has to work harder. You can also have your furnace serviced to keep it working properly.
7. Lower the thermostat. Sleep experts recommend cooler temperatures to sleep in, plus you can always add more blankets. When you're awake, you can add layers to stay comfortable.