Jefferson Memorial Forest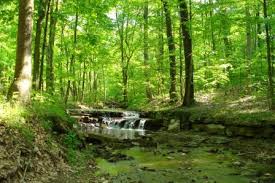 Louisville is fortunate to be the home of the largest municipal urban forest in the United States, the Jefferson Memorial Forest. It incorporates 6,500 acres of beautifully treed land on the southwest side of the city.
Originally founded in 1946, the forest is a tribute to the military veterans of Kentucky. It boasts over 35 miles of trails for both hiking and horse back riding, with excellent views of the city from the top of the hills, as it sits in the Knob Region of Kentucky. There is the 5.5-acre Tom Wallace Lake that's always dependable for a good day's fishing or a great picnic scene for you and your family. Camping, zip-lining, interactive education and team-building retreats are always great fun to be had...